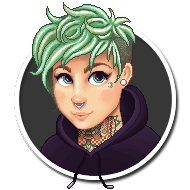 My name is Lisa
aka "sexpot lida" or "lida"

(fun fact I got my super edgy nickname "sexpot lida" on PCG back in 2001)

I live in Sweden.
I'm 33 years old and I've been playing petz for 24 years.
I have worked as a Tattoo artist for over decade.
I'm addicted to all forms of creativity. digital art, painting, hexing and web design are some of my favorites.
I've had one dog in my life, a toy poodle named Dixie and i had the pleasure of spending 17 years with her.